Moko Expedition #18: Inspriations
Posted by Robin Childs on November 14, 2014 News | Podcast | Tags: inspiration, storytelling, writing | No comments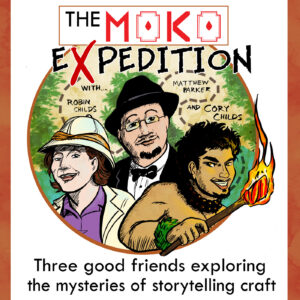 Inspirations! What set us on the path of writing at an early age, what drove us to keep going, and what helps us grow today. We're sharing the stories that got us excited to tell tales of our own!
Here's some of the things we mention:
EARLY INSPIRATIONS
– The original Dragonlance Chronicles Trilogy by Tracy Hickman and Margaret Weis
– Jeremy Thatcher Dragon Hatcher by Bruce Coville
– ElfQuest by Wendy & Richard Pini
– Unified World Saga by Diann Thornley
– Goosebumps by R.L. Stine
– Pit Dragon Chronicles by Jane Yolen
– Isaac Asimov's work
– The Deed of Paksenarrion by Elizabeth Moon
WHAT DROVE US TO BE BETTER
– (Reverse inspiration) Laurell K. Hamilton's Anita Blake series
– Legend of the Five Rings (L5R)
– Lucifer by Mike Carey
– Tracy Butler
– Finder by Carla Speed McNeil
– Demonology 101 by Faith Erin Hicks
– Webcomics Weekly crew of Scott Kurtz, Dave Kellett, Kris Straub and Brad Guigar
– American Gods by Neil Gaiman
WHAT WE'RE EXCITED BY NOW
– Invisible Ink by Brian McDonald
– The works of Ursula K. Le Guin
– The Name of the Wind by Patrick Rothfuss
– The Sword of Truth series by Terry Goodkind
– The works of Jim Butcher
– Movies such as Guardians of the Galaxy and Hot Fuzz
What inspires you now, or has inspired you in the past?
Please share your experiences with us! You can always comment on the Moko Press site, or email us at info@mokopress.com!
BECOME A PATRON
If you like the work we do, consider becoming a Patron at www.Patreon.com/MokoPress!
OUR PROJECTS
Find more of Matt's work at Border, KS! http://www.Border-KS.com
Read Robin's story at http://LeyLinesComic.com!
Want to hear more? Subscribe to our podcast on iTunes!
Podcast: Play in new window | Download