CURRENTLY LOOKING FOR:
Interior Linework – From thumbnails to final inks
Cover Artists – Full color illustrations
Expectation is for a single issue. If you would like to work on multiple issues, let us know!
PAGE RATES
For interior, inked linework: $125 per page
For cover illustration: Open to negotiation. Starting at $200.
These are paid, work for hire opportunities. Artists will be hired as freelance artists, not employees.
THE STORY
"Wavemen" is a historical fantasy set in Heian Japan about a team of legendary heroes tasked by the Emperor with solving supernatural crime.
Momotaro, the newest member of the team, struggles to reconcile being a hero with the horror that he faced on Oni Island. He has a lot to live up to, serving with Princess Kaguya, Issun-bōshi, Kintoki, and Fujiwara no Miyuki, daughter of Chancellor Motosune himself! Even Emperor Yozei seems to think that Momotaro will live up to his legend, but will they still want him on the team once they learn the truth about what he's done?
THE PROJECT
Wavemen is a long-form story that will span multiple issues. It will be published as a webcomic first. Once we have enough content for a book, we will collect the material into print volumes. This is similar to the process we're already following for Robin's current comic, LeyLines, which we've printed three volumes for so far.
Following the example of one of our favorite comics, Vertigo's Lucifer, we'd like to work with multiple artists throughout the course of the series. Most of the time, one artist would be responsible for one issue, with the opportunity to work on future episodes. If you are interested, let us know! Even if we don't have an opportunity right now, we might later!
QUALIFICATIONS
Visual storytelling skills
Panel and page composition that directs the eye
Expressive drawings with wide emotional range
Detailed backgrounds that contribute to story and visual drama
Movement and life in character body language
Communication skills
Willing to ask questions and get clarification
Initiative to make suggestions for improvements
Quickly informs us of potential delays or problems when they occur
Willing to read over, negotiate, and discuss a contract with us prior to starting work
Reliability
Can Deliver work in a reasonable time frame, by mutually agreed deadline. We are happy to be flexible with the schedule if something comes up. However, delays should be infrequent, not typical.
Able to commit to an entire issue. Our chapters are long, sometimes running up to 50-60 pages.
Portfolio should demonstrate ability to finish projects
Must be comfortable with
Reference material. We have assembled hundreds of photographs on locations, clothing, items, buildings, mythological lore, etc. While you do not need to know all of it, the scripts will call out specific items, and in those cases reference should be used. You may also need to do your own independent research, although we will do our best to help if there is something missing from the resource we provide.
Making thumbnails and working closely with us on them. We review every page in its thumbnail stage, and in some cases may make extensive comments and suggestions. You will need to be comfortable with receiving notes and corrections on your work. This is to avoid extensive re-work on final pages. We'd prefer to catch problems BEFORE you do a lot of work on final drawings. CLICK HERE for an example of what that can look like.
Passion!
We'd prefer you have a personal connection to the material.  We emphasize quality over speed, and want to work with people that are as excited for the material as we are.
We'd especially like to include artists of Japanese descent, since this story pulls from Japan's myths and history, and we want to be respectful of the culture that inspired this project.  Whether you grew up with these stories, or want to discover a part of your heritage through the project, artists of Japanese descent are actively encouraged to apply!
SAMPLE PAGES FROM SOME OF OUR CURRENT ARTISTS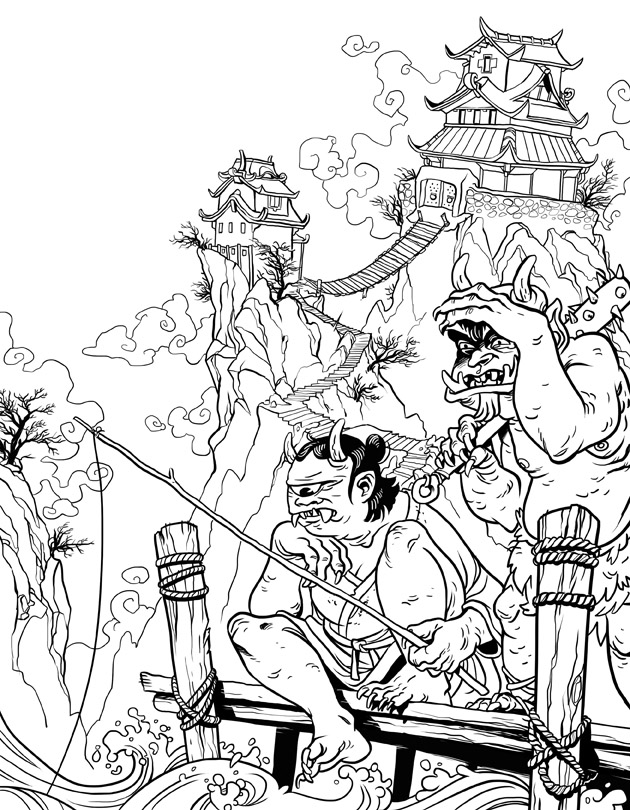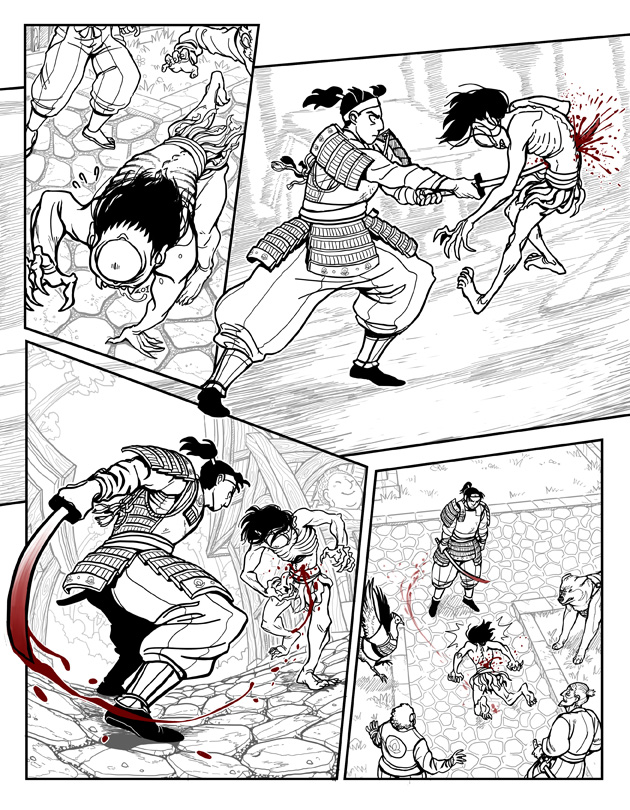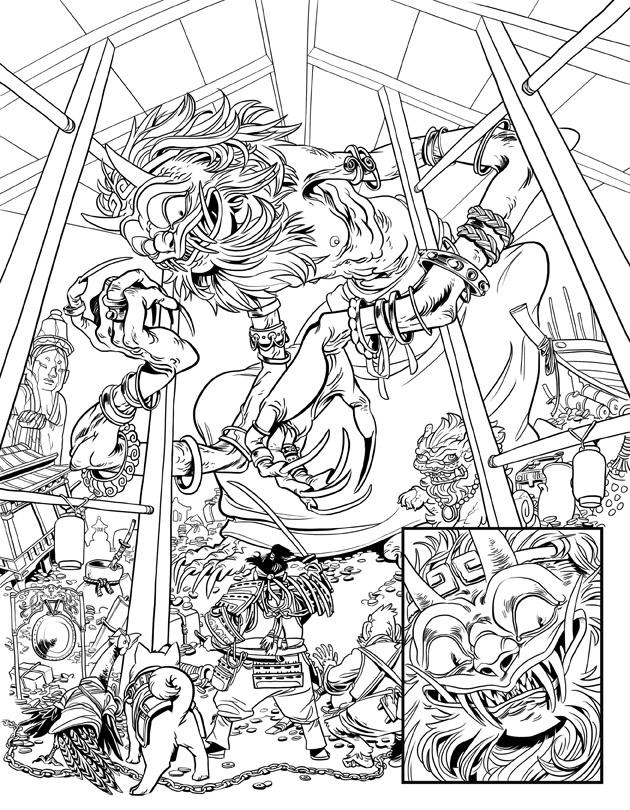 Pages by Jonas McCluggage and Jackarais. Please check out more of their amazing work and comics!
HOW TO APPLY
Email us at info@mokopress.com with:
1) A link to your online portfolio, comic, or other representative work
2) Any information you think would be helpful for us to know about you or your background.