Moko Expedition #10
Posted by Robin Childs on July 25, 2014 News | Podcast | Tags: expedition, mary sue, moko press, podcast, storytelling, writing | No comments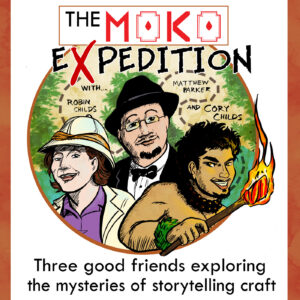 We're chatting about the much reviled (or perhaps, misunderstood?) Mary Sue in today's chat. Matt peers past the preconceptions to make the Mary Sue a useful writing tool, Cory reveals a unique perspective on his gender associations to the term, and Robin discovers an untapped level of rage for all things linked to labels. Come hack through the underbrush with us on another Moko Expedition!
The LeyLines Kickstarter is in its final week! If you'd like to support the third book, please click here! https://www.kickstarter.com/projects/2088273372/leylines-in-print-volume-3
Find more of Matt's work at the recently launched Border, KS! http://www.Border-KS.com
Read Robin's story at http://LeyLinesComic.com!
Please share your experiences with us! You can always comment on the Moko Press site, or email us at info@mokopress.com!
Want to hear more? Subscribe to our podcast on iTunes!
Podcast: Play in new window | Download