Moko Expedition #11
Posted by Robin Childs on August 8, 2014 News | Podcast | Tags: creative writing, pixar, podcast, storytelling, writing tips | No comments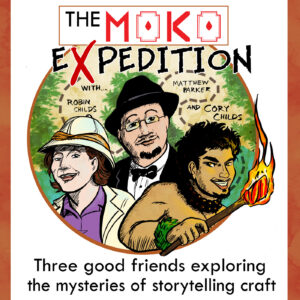 Pixar's Rule #6: What is your character good at, comfortable with? Throw the polar opposite at them. Challenge them. How do they deal?
Things mentioned in this episode:
Brian McDonald's Invisible Ink: http://www.amazon.com/Invisible-Ink-Practical-Building-Resonate/dp/0984178627/ref=sr_1_8?ie=UTF8&qid=1406928394&sr=8-8&keywords=invisible+ink –
Robin's Workshops (and Creative Writing Birthday Parties): http://www.mokopress.com/workshops/ –
Matt's Rant on Doctor Who: http://dishonoronyourcow.com/?p=43 –
The new Bat Girl costume: http://io9.com/batgirls-new-uniform-may-be-the-best-damn-superheroine-1603247249
Find more of Matt's work at the recently launched Border, KS! http://www.Border-KS.com
Read Robin's story at http://LeyLinesComic.com!
Please share your experiences with us! You can always comment on the Moko Press site, or email us at info@mokopress.com!
Want to hear more? Subscribe to our podcast on iTunes!
Podcast: Play in new window | Download