Moko Expedition #9
Posted by Robin Childs on July 11, 2014 News | Podcast | Tags: pixar, rules of storytelling, simplifying, writing tips | No comments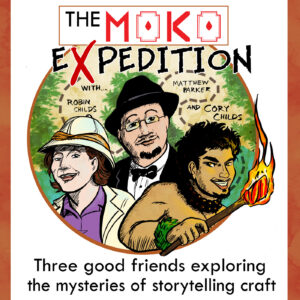 Pixar Rule #5: Simplify. Focus. Combine characters. Hop over detours. You'll feel like you're losing valuable stuff but it sets you free.
We've launched our Kickstarter for Volume Three! Please support us here: http://kck.st/TNCc3a
Matt's Work:
– Border, KS: http://border-ks.com
– Blog: http://dishonoronyourcow.com
Robin & Cory's work:
– LeyLines: http://leylinescomic.com
Please share your experiences with us! You can always comment on the Moko Press site, or email us at info@mokopress.com!
Want to hear more? Subscribe to our podcast on iTunes!
Podcast: Play in new window | Download